Your Google+ for Business page is usually the first thing a potential customer sees of your business in search. You don't want it to be naked, do you?
---
When someone searches for a local service on Google, your Google+ for Business page is often the first thing they'll see -- even before your website.
Do you want that potential customer's first impression of your business to be an ugly, bare -- dare we say -- naked listing? A page with missing information, low-quality photos, or -- gasp! -- no photos at all?
You may have seen our recent blog post on how to claim your Google+ for Business page. Now here's how to make it the prettiest girl at the ball.
Take some high-quality photos of your business
Find someone with a digital camera, or hire a professional photographer, to snap some photos of your storefront and the business interior.
We often call these "Hero Images." You'll want to keep the following guidelines in mind as you decide what you want photos of:
Choose images that represent your business' feel and brand.
Make it easy for clients looking for your business to recognize it street-side.
Visually depict what it is your business does. For example, if your business involves giving professional advice, ask a few clients if they would be comfortable with having some photos taken of your staff advising them.
Only use high-quality photos. Low resolution, poorly-lit and blurry photos will make potential customers run to your competitor. Note the difference between the two sample business pages below.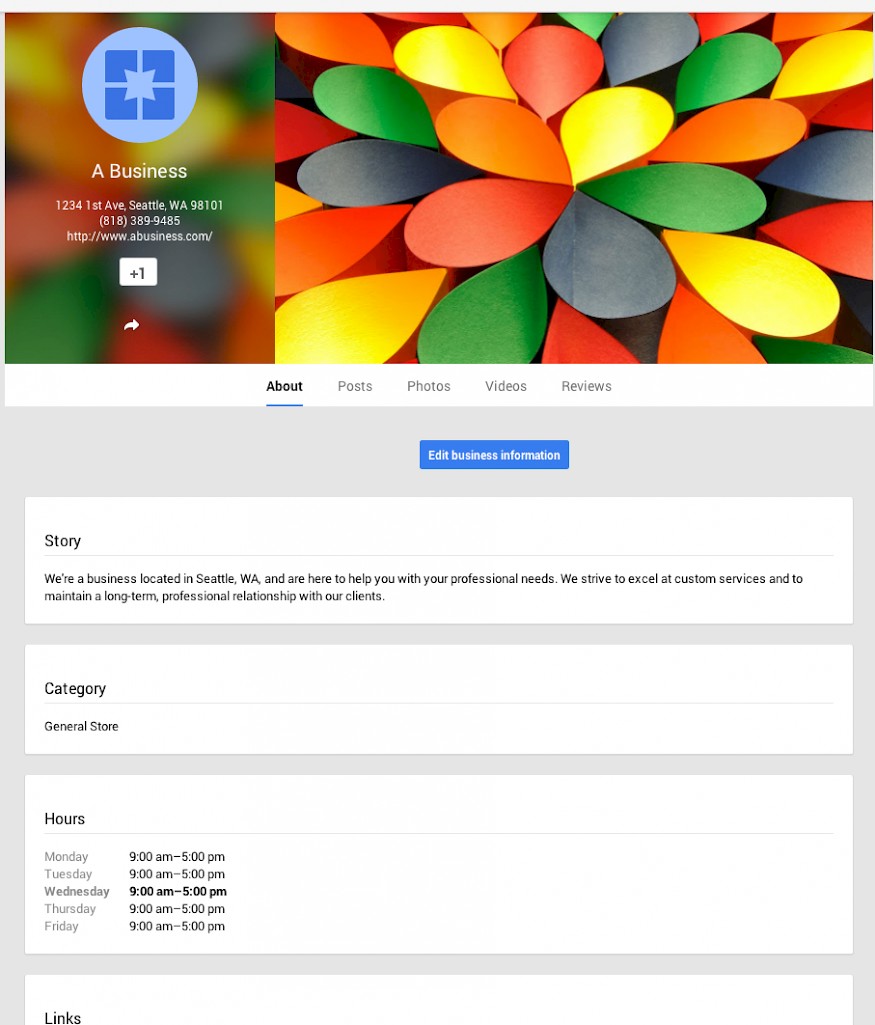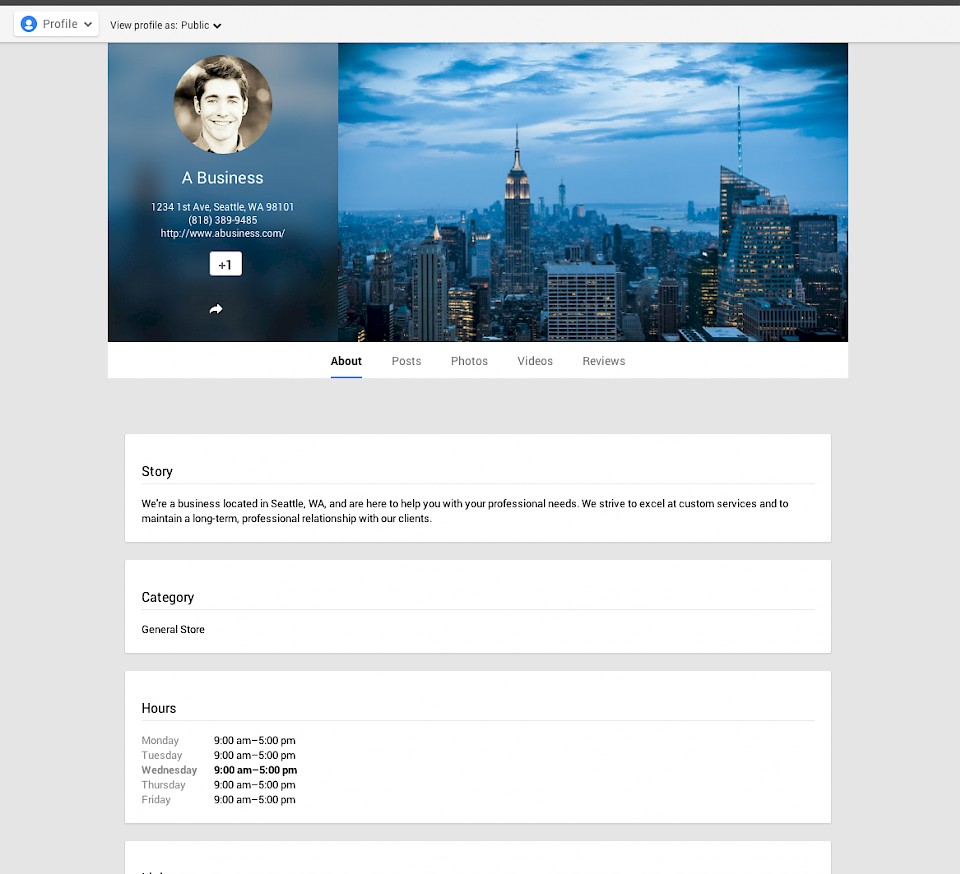 Which one of these businesses would you be more likely to contact?
Give customers all the information they need in one place
People are lazy. We hate to say it, but it's true.
Most people don't want to go to your website to find your operating hours, phone number, or email address after having just looked your Google listing.
Your site is there for them to read about very specific aspects of your business, learn more about you, or fill out a contact, quote, or booking form.
If they've made it to your Google+ page, giving them that extra incentive to choose your business can mean the difference between a new customer and a lost lead.
One of the best ways to do that is to fill out your information as completely and cleanly as possible.
Add some personality to your page
Google+ for Business is both a business listing and a social account for keeping your customers in the loop. As important as the information in the About tab is, people often land on the Posts tab first, so we highly recommend publishing posts.
Not sure what to post? Even some basic information about your business works. Here's a few ideas:
A description of your business
A coupon or discount you're offering
A personal message welcoming a new employee on board or congratulating an employee on their recently-born baby
An announcement about a business event, like a customer barbecue or a big sale
Anything that's informative, gives your business personality, and helps people connect is what will make you stand out and build lasting relationships.
Still need some help?
Just send our team at Avelient an email here. We'd be happy to hear from you!