Professional photographers can be expensive, and taking your own photos can be daunting. But business photos are incredibly important. Here's why.
---
We understand that you're busy. Or maybe you don't feel a professional photographer is in the budget. Pictures are complicated, technical and unessential, right?
Well, no, not really.
Having even just a photo of your staff and the exterior of your business can work wonders for building trust with potential customers, as well as boosting your online presence and adding a much-needed personal touch to your local listings.
In a BrightLocal study, 46% of respondents said they trusted a business with genuine owner images when compared with stock photos (33%) or no photo at all (21%). Just having a photo in general increased trust by 79%!
This article from Davenports Media says it well: "People are more likely to do business with someone they know and trust which is why it's important you show yourself."
What should you take photos of?
Potential customers want to see who they are going to be doing business with. Smiling faces in properly-composed photographs can make the difference between giving you their business or going with a familiar, friendly, and palatable corporate entity.
Not sure what we mean? Here's a great example of an insurance agency using personal and personable photos on their website.
Also, we highly recommend taking photos of your office. The exterior can be especially helpful, specifically as seen from the nearest road, to help customers who need to navigate to your office.
For example, take a look at these Google My Business pages for Kapiloff Insurance and Carlen-McCawley Insurance, two of our current marketing clients. Both listings show you exactly what the offices look like from the street. Who would you rather do business with: them, or a business with a Google My Business page like this?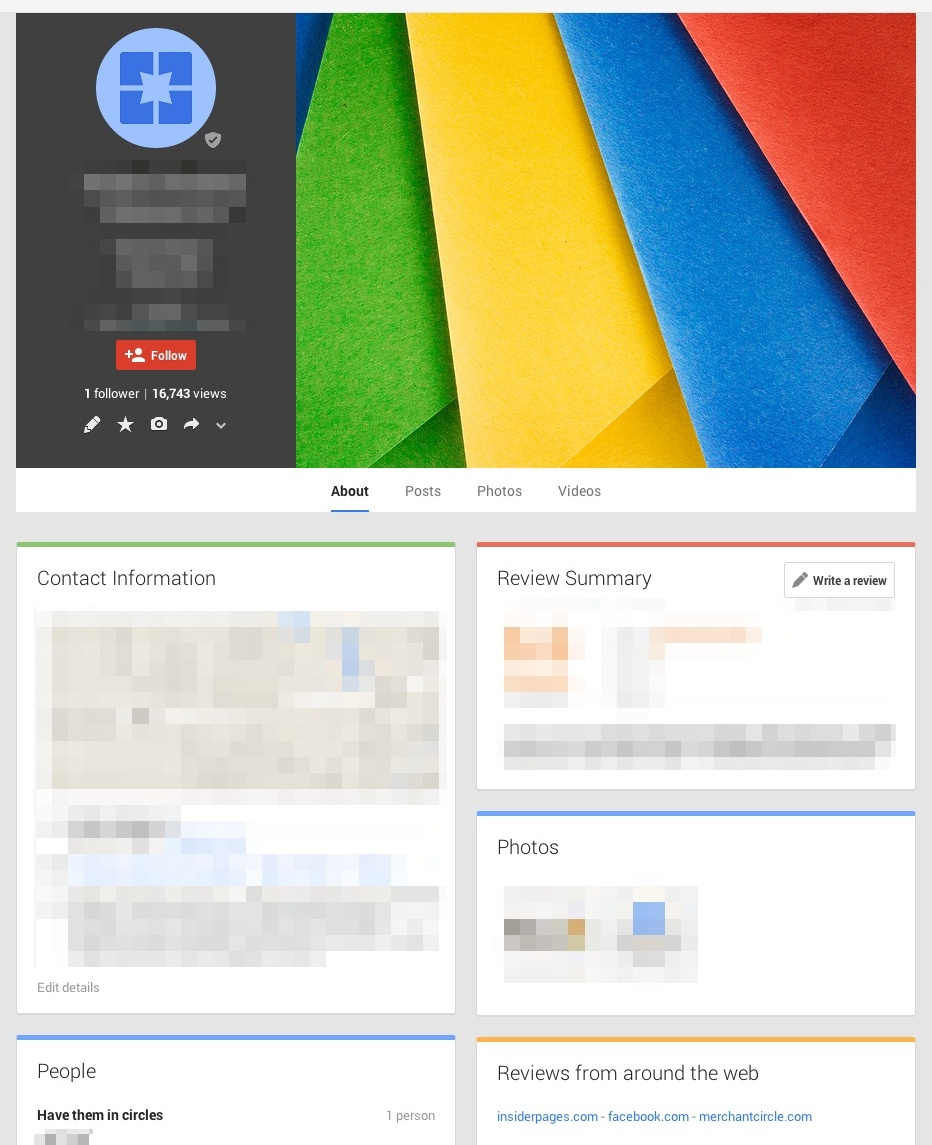 Can you buy photos or take some for free?
If a professional photographer is really not in the budget, it's still likely that someone you know has the technical know-how to take a few passable photos for free. Most any teen or Millennial with a smartphone can take high-definition photos that are preferable to Google's generic profile and cover photos (see above).
If you opt to take your own photos or ask a friend to, we recommend snapping a lot of photos instead of just one or two. Then you'll have multiple options and can select the one that turned out the best.
If these suggestions aren't a possibility, then perhaps stock photos from istockphoto.com or dollarphotoclub.com are the way to go. Most people can spot a stock photo from a mile away though, so we encourage that this option be a last resort.
Set yourself apart from the competition - or even up the odds
The bottom line is that photos -- especially personal, genuine photos of you, your staff and business -- can make all the difference in turning a prospect into a customer.
There are innumerable small businesses online that have bare, boring and impersonal websites and local listings. They're not transparent, informative, or especially inviting.
Even just a few snaps with a smartphone camera could push your small business' site or local listings from being all-but-invisible to engaging and trust-building.
If you want more on building client trust, check our blog post about using transparency to market your business online.