---
Want potential customers to find your business online but don't know where to start? Here are five of the most important on-page items to focus on for SEO success.
If you've spent any time researching search engine optimization (SEO) in the last several years, you probably have a good idea of how complex the process can be. There are literally hundreds of factors, on-page and off-page, that contribute to a successful SEO campaign.
But you shouldn't let that scare you away from taking action. Search engine optimization is all about helping potential customers find your business online, and there's no better way to start than by focusing your efforts on five key on-page SEO factors.
1. Content
By and far, the most important on-page factor for SEO is content. And not just any content—great content. Search engines are designed to work for the user, not the business. For a webpage to be indexable for a given keyword, it must have content that fulfills the user's search query.
Do it: Write content that is interesting and helpful for the user and make sure it is at least 50 words in length. More is definitely better, but most experts agree that 50 words is the absolute minimum.
2. Keywords
Keywords have been the lifeblood of the SEO industry since the very beginning and are still one of the most critical factors for SEO success today, which is why any attempt to optimize a webpage for search should begin with keyword research.
Do it: Brainstorm a list of keywords you think a potential customer might use to find your webpage and then run them through Google's Keyword Tool. Select the keyword that makes the most sense for your page and has a decent number of monthly searches.
3. Page title
Once you've chosen your keyword, you'll want to make sure you include it throughout your webpage, especially in the page title. The page title is not the header. It's what you see in search results and at the top of your browser window (see below).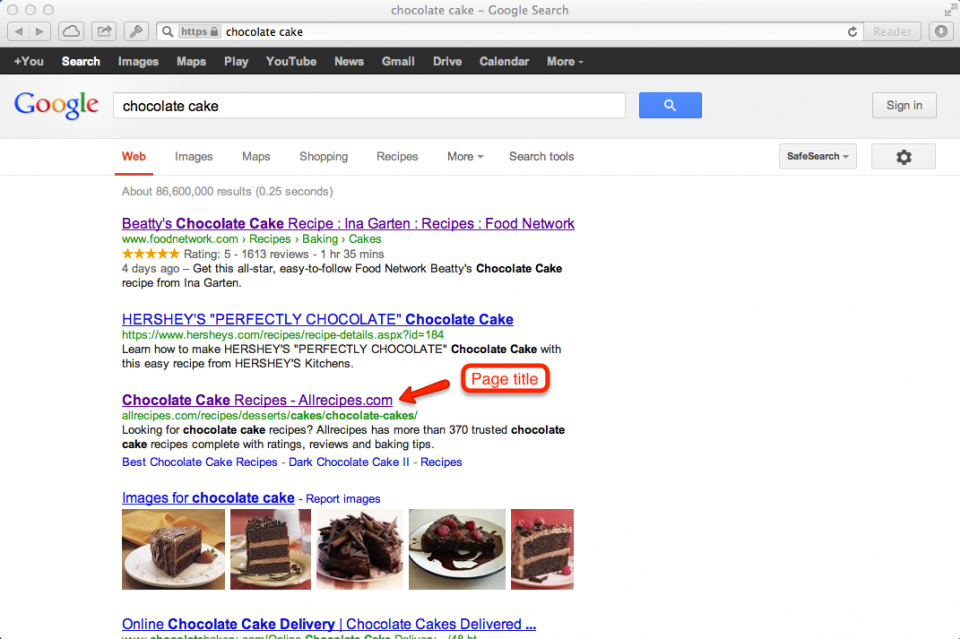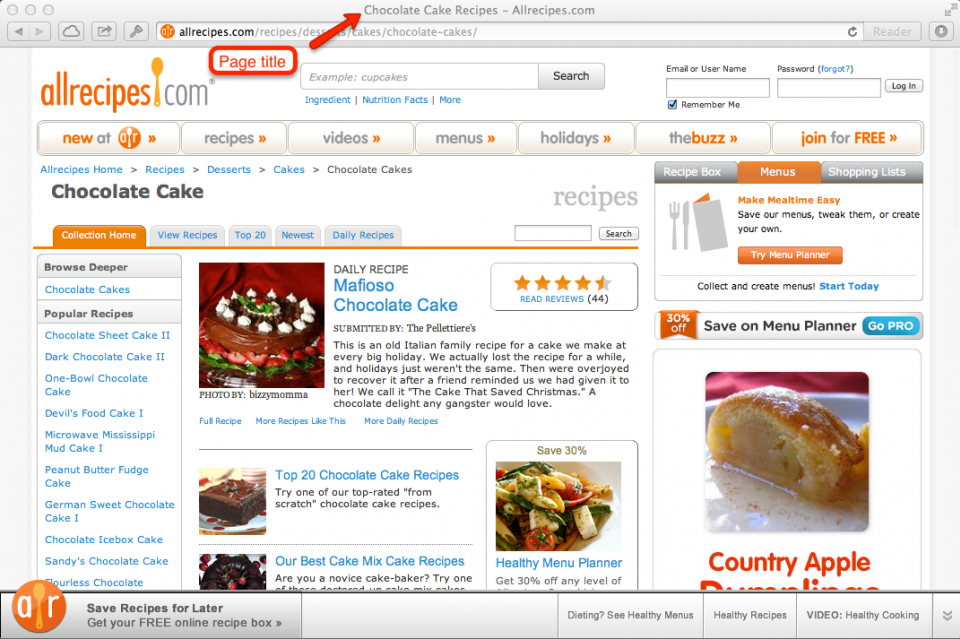 Do it: Use your keyword in the page title and try to get it near the front (e.g. Chocolate Cake Recipes – Allrecipes.com). Also, shoot for about 70 characters in length. That's the maximum number of characters that will display in search results.
4. Meta description
The meta description is what you see below your page title in search results. This is where you describe the content of the page for users. The goal is to get them to click on your listing. Search engines will often grab excerpts from your content and use them for the meta description if you don't have one in place or if your description doesn't seem relevant to the search.
Do it: You want to include your keyword in the meta description, if possible. It doesn't help search rankings, but it does give you more control over what a search engine chooses to display. Shoot for about 155 characters.
5. Keyword targeting
Back in the early days of SEO, keyword density was all that mattered for SEO success. You could simply fill the page with your keyword of choice and top search rankings would follow. Obviously, search engine results suffered. Nowadays, broad keyword usage on a webpage is what matters most.
Do it: Try to use your keyword at least four times on the page, and don't shy away from using variations as well to maintain natural-sounding content.
Follow these five critical on-page SEO factors, and you'll be on your way to building more targeted traffic on your website. If you need further assistance or would like to pursue SEO more aggressively, fill out our Start a Project form.